It is now time for a Random Platypus exclusive, a product review that is appearing here for the first time. Lets hear it for original content.
Lets take a look at
Modelmates Rust Effect Liquid.
For this review I picked up
Rust: Yellow Effect
and
Rust: Copper Effect
. These are the two extremes of the Rust Effect range, which I figured would give the most varied results. From the Modelmates site:
Rust: Yellow Effect. Lighter, younger yellow rust colour, ideal for final highlight coats.
Rust: Copper Effect. Darker, older brown/red copper rust colour, ideal for older rust colours.

The third option I'm not testing is listed as:
Rust: Normal Effect. Original rust effect. A fantastic realistic rust effect for most situations.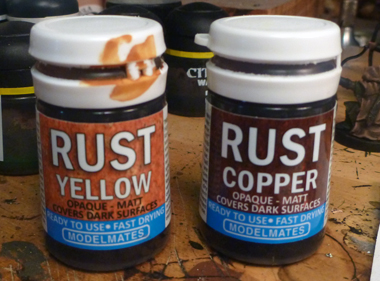 I got the small 18ml size, which is about the same as your standard Wargames Foundry or P3 paint bottle.
The bottles have a steel ball or some such in them to help shake up the pigment, which I always appreciate, and they have an attached flip-top lid which is convenient. Here is what you get after a good shake, and straight out of the bottle: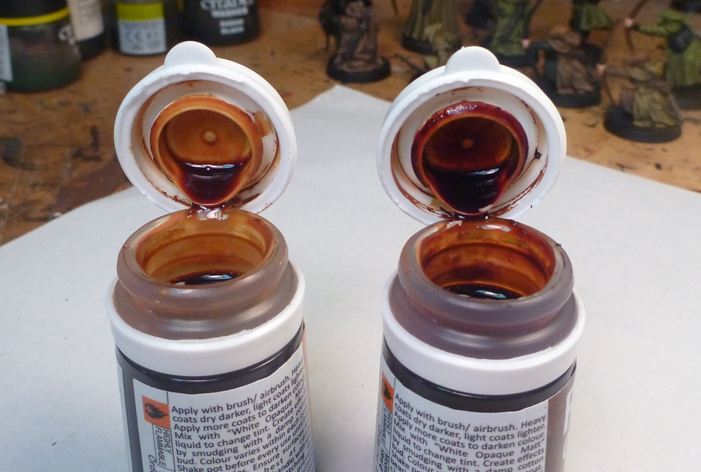 My test pieces are some basic Warhammer 40k wheels that I've prepped with black primer and some steel drybushing: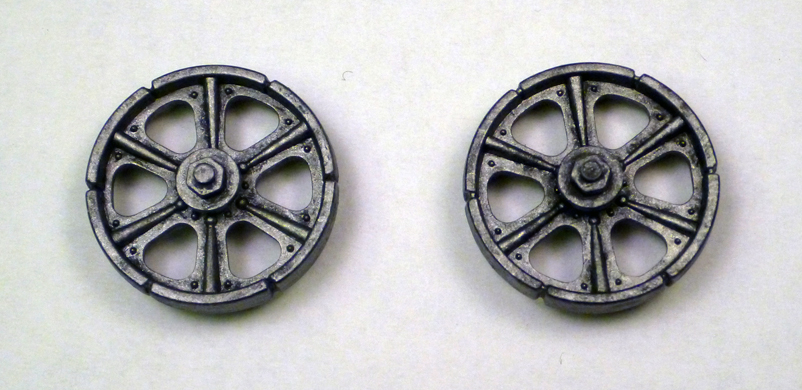 The most important thing about these paints is that they have a solvent in them as well as a dye. My nose tells me that its alchohol based, or a chemical cousin. It has a very sharp smell, and as you'll see- part of their character is that the stuff evaporates somewhat, leaving you not just a color, but a finish that approaches a weathering pigment.
The Yellow Effect will be on the left, and Copper Effect on the right.
First, some quick brushing with thinned out rust liquid. This is right after application: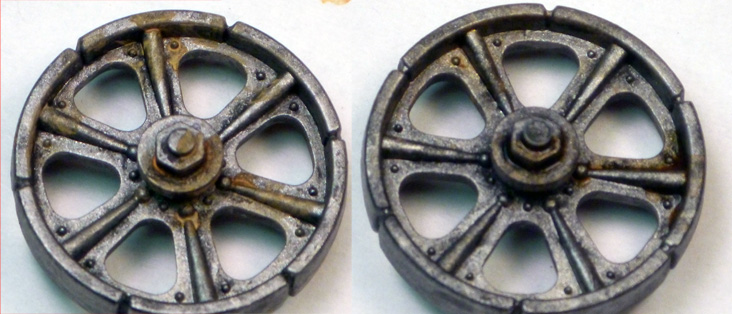 Once it dries, you can begin to see that this is a bit of a textural/surface effect, not just a glaze. Pardon the intrusion of my fingers into the photo, but they were necessary in order to get the right angle of light to show the residue quality of these paints:

Now that we've seen what a little can do, how about a lot. This next layer is dabbed on straight from the bottle, without thinning in water first: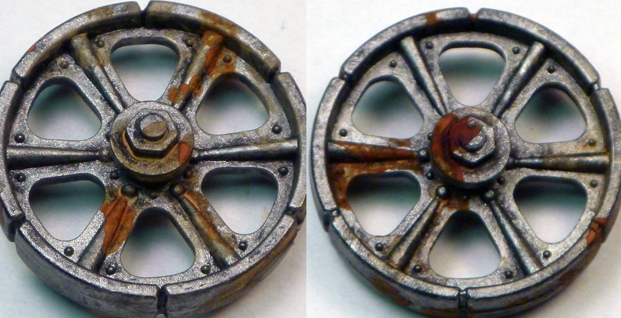 You can do lighter, and heavier, and other effects with cotton balls, sponges, and other smeary/streaky applications, but I'm just doing basic brushwork to start with.
The finish can be a little intense, as you can see above, but you can quickly work it in more smoothly with a little overwash to give the surrounding metal a little more age too. On the last step below I've hit the wheels liberally with some black ink, and some glazes like sepia and smoke, just to even out the transitions a bit.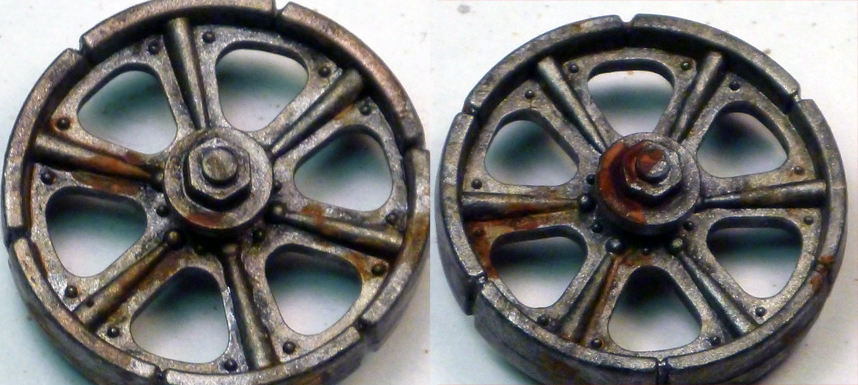 I have to say I'm super happy with this stuff. It takes a couple test pieces to get an idea how to handle it, as it can be a too intense first, but if you work you way up from thinned application to more minimal areas of high concentrations, you're going to be fine. I don't normally get excited about 'out of the bottle wonder products' because most of them are far from that, but given the amount of effort I have gone through to create rust and oxidized weathering in the past, I am going to give this two thumbs up, or 4 stars, or whatever you like best. For serious EuroMilitaire modellers, I'm sure there are better options, and that they require a dozen steps each. But if you're an everyday painter/modeller, and you want something that can give you probably more convincing results than your average manual application of browns, metallics, washes, etc will manage, with less work, than I'd say you can't go wrong picking up a bottle or two.
This is the only thing I've used them on so far, so while I can't say its the ideal or best use, it does give you an idea of how the paints look in the context of a larger paint job. For my first time dabbling with them, I'm pretty happy with the worn out rusty blades I was able to suggest on these undead hoplites: