So, I wanted big, embanked, hedges that would do the West Country and also work for Bocage-types.
Tony at East Riding Miniatures kindly cut up some bases to my vague design:
and added them to his catalogue here:
http://shop.eastridingminiatures.co.uk/ ... -239-c.asp
I added the embankment out of 10mm Craftfoam:
http://www.craftfoam.co.uk/craftfoam.html
angled off with the hot wire cutter:
Holes were drilled in the embankment and various garden twigs and offcuts from the local trees were 'planted' into it to provide a key for the hedge material. The whole lot then slopped over with a plaster/sand/PVA mix:
Painted with any suitable household emulsion (Craig And Rose Dark Chocolate in this case):
And dry brushed with more emulsion – Wicks Baked Earth and Craig and Rise 1829 Kashmir Biege (tester pots from B&Q – a couple of quid each):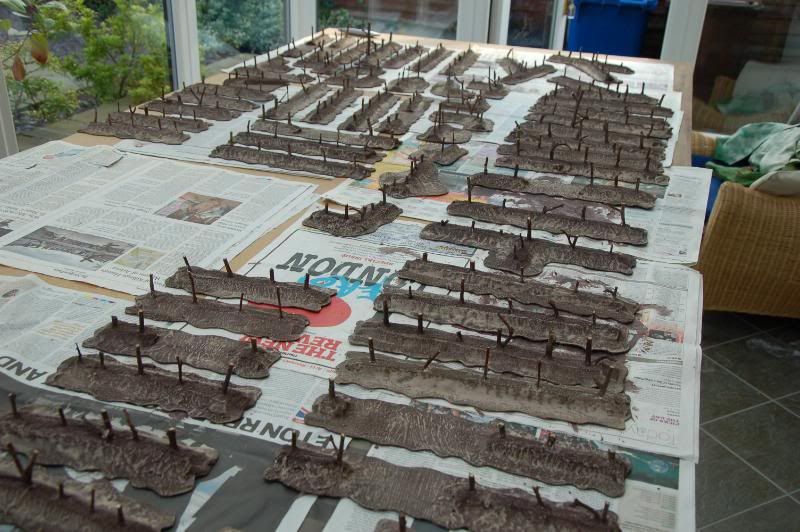 Then a bit of flocking – I added brown scatter at the base of the hedge to represent dead vegetation and various bits of grass or Silifor tufts on the ground part of the base: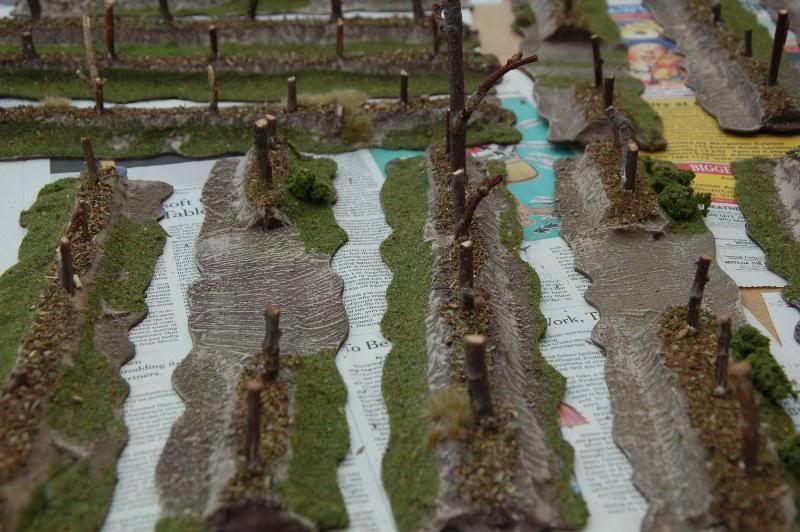 Now, get hold of some rubberised horsehair:
My sheets courtesy of Woolies, cheap if you can pick it up personally:
http://www.woolies-trim.co.uk/
I've tended to use the rubberised horsehair because it gives a quick and easy bulk but also a 'see-through' depth to it. However it can have two flat sides and unless carefully teased out can look a little square. Sea moss can provide excellent vegetation for hedges, but for the 'banked' hedges I want a lot of bulk so it's the horsehair for me – although I will try out some sea moss for the narrower hedges I also want to build.
Cut out a strip – height not too crucial here, I did it about half a thumb, nor are straight lines. Tease out the horsehair and cut half-way through lengthways:
Then the twigs can be PVA'd and the horsehair cut given a little PVA as well, press it down over the twigs and ….bingo!
Fortunately the horsehair has a colour that looks pretty close to suitable for hedges and I don't see the need to paint the material (I reckon undercoating the originals black was a mistake – see first pic).
I've left a few twigs sticking through, the plan is to turn these into large shrubs and trees that often grow out of hedgerows. I did try the wire armature and plaster/fake bark approach but to be honest I reckoned cutting up some Woodland Scenics tree armatures looked better and was quicker. I decided to try making the 'tree tops' detachable to aid storage (and allow a little variation in the look of the hedgerows), so a cut-down steel spear was thrust violently up its trunk: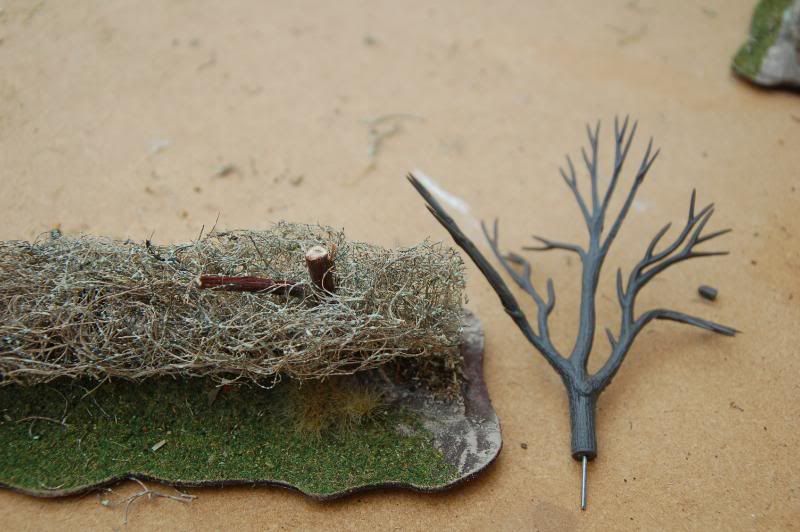 And this is as far as I've got so far:
I now have a wet bank holiday's entertainment flocking the hell out of it.
So, dry brush yer horsehair with 50/50 PVA and water, holding it upside down to avoid too much splashage on the base (and if you do splash the base, just drop a silifor tuft on it):
The leaf mix is parsley, thyme, tarragorn and green tea leaves plus a tiny pinch of flock, all given a quick whizz in the kitchen blender. The pile in the picture should do the lot with some left over. My nearest hobby store (Hattons) doesn't do sea moss so it'll have to be a postie job for later in the week:
Leave to dry – the first bases flocked. I may add gates to these particular bases later – I'm aiming to keep the hedges as non-period specific as possible so I need to research some options, can't recall seeing medieval field opening options, presumably wattle panels dragged across the gap would do. Alternatively I may just leave them open:
Now, because they're worth it, spray your hedges with hairspray to help hold it all together. I went with the personal recommendation of Teasy Weasy Timmo of Kennsington and used Boots non-perfumed extra firm hold: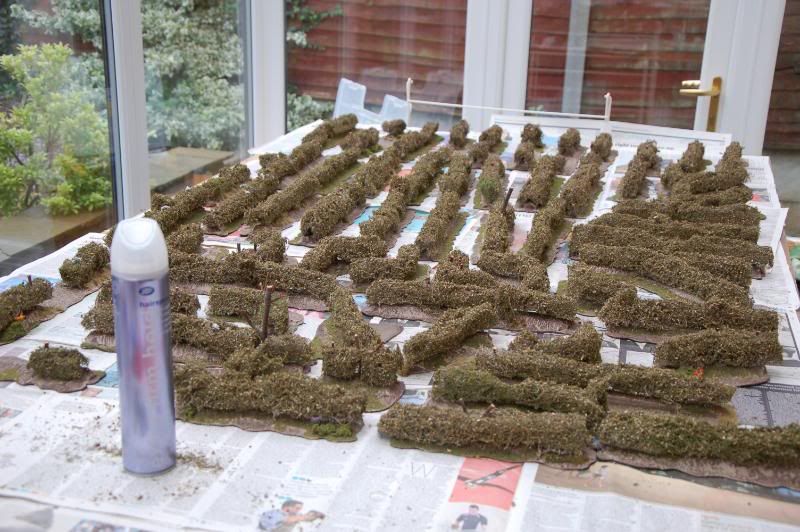 Now for the close-up:
Using the herb leafs gives a coarser finish to the hedges than using pure flock – I think this looks better (because bigger) on the tabletop. I've added a few MiniNatur flowers throughout for that extra touch of colour.
And with the figures:
Tthe height of the hedges was deliberately chosen to be bigger than normal – these were initially built for Norton St Phillip 1685 and the Prayer Book Rebellion 1549 and I wanted to only be able to see flags/pikes waving above the hedgerows. Having spent some time cycling farm lanes following the Prayer Book rebellion line of march and hiking in similar country in Dorset and Devon I was impressed by the sheer size and obstacle the hedges presented. Quite often your vision was limited to a tunnel of hedge and earth bank (and above us only sky) and finding enemy or even friendly troops was a real effort. Once you abandon the compass and without detailed local knowledge, it's a matter of minutes before you can get lost and confused.
Tree-top work continues –
This is the boring bit so you may wish to make a cup of tea at this point: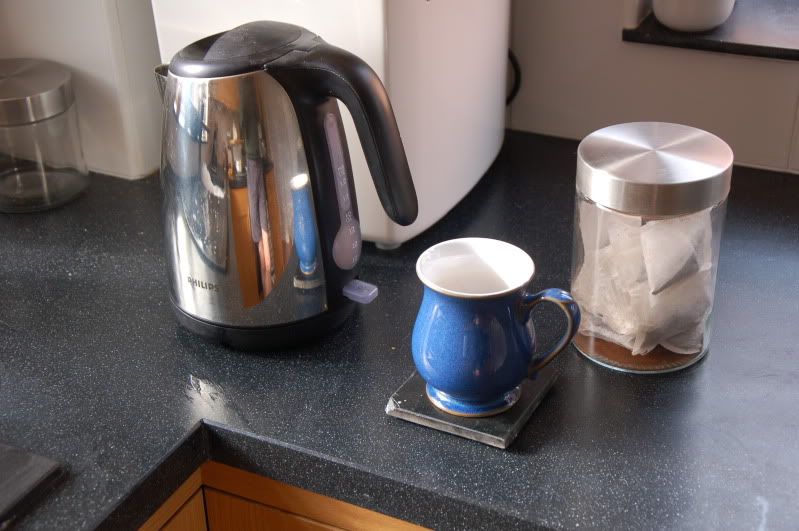 Some people favour sugar but I……(contd P94)
Tree-tops finished, a couple of shots for completeness